Back to all posts
Posted on
Gift Lake School boys basketball team capture zone championship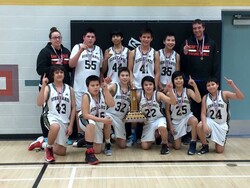 The Gift Lake Hurricanes basketball team captured the North West Alberta Athletic Association 1J Zones in Hines Creek last weekend! The victory caps off a magical season for the team coached by Megan Tipler and Andrew Bots. In addition to winning zones, the boys won the Smoky River League Championship and scored an undefeated record of 16-0 during the regular season! 
Tipler, who teaches at the school, says she's proud of how the boys conducted themselves all season. 
"I got so many compliments all year about how hard our kids work and how well they work together as a team," said Tipler. "Andrew and I are thankful to have had the opportunity to coach this group of boys. It has been a pleasure to watch them come together and work towards a common goal. Also a big shout out to all the amazing Gift Lake fans! You guys are a dedicated bunch for sure and it made a huge difference having so much love and support at all the games."