Back to all posts
Posted on
Gift Lake School hosting CTF Blitz December 3-14, 2018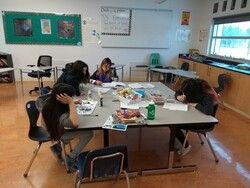 Gift Lake School is hosting a Career and Technology Foundations (CTF) Blitz until December 14th! The two-week blitz is a combination of core courses and option classes.
Students in grades 7,8 and 9 are producing work for a showcase dinner on Monday, December 17, 2018, at 5:00 p.m.
Some of the curriculum learning includes:
- Math: Students understand and apply concepts relating to number sense, 2D & 3D objects, indirect and direct measurement as well as position and motion.
- Science: Students understand the relationships among human needs, technologies, environments, and the culture and use of living things as sources of food and fibre. They describe heat energy and its effects on different forms of matter and understand the properties of gases and liquids; and relate variations in their viscosity, density.
- Language Arts, Social, and Cree outcomes will be integrated into the Art classes.
- Numerous concepts and outcomes for Health, Physical Education and Food Studies that will be highlighted as well.