Back to all posts
Posted on
Gift Lake students developing life-long skills during CTF Blitz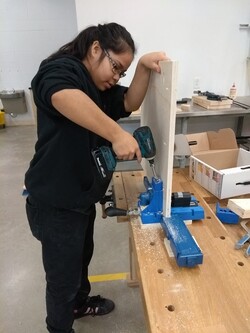 Fun, amazing, great, enjoy the problem-solving. Those are just a few thoughts from students who experienced Gift Lake School's Career and Technology Foundations (CTF) Blitz from December 3rd - 14th. What is CTF you ask? CTF provides students with challenges in problem-solving, working together and experience with future careers of interest such as woodworking, cooking, computer coding, health, and fitness. Students apply concepts and skills that they previously learned in core curricular courses to project challenges.
CTF supports individualized learning where students choose a career interest, set a learning goal and work towards this goal by creating a product, performance or service.
In the shop, for example, students were provided with safety training to manage space and tool use, selected projects and created project plans. Real-life application of math outcomes in number, shape, and space allowed students to build benches, a chair and footrest, and herring bone coffee table.
The learning journey "was like reading a book for the students," said Ram. "Chapter one is just okay and you're getting the pieces and then they start to get pulled in by chapter two. When the student is in their element, they begin to see the project coming together."
The response from students involved in the CTF Blitz like the fact it's hands-on and that they have a say in what they're learning.
"I like this way of learning because you can still learn physics in construction and math in cooking," said Tennaya, Grade 7 Student. "You learn easier because you can do it", referring to experiential learning.
"This way of learning is better because we get to do what we want, and learn with students from other grades," said Nikesha, Grade 9. "Choice in learning."
Parents and community members are invited to a showcase dinner on Monday, December 17th at 5:00 p.m. Students have been working hard on projects for the past couple of weeks. At the showcase, you may be meeting the next celebrity contractor, personal trainer or a future Top Chef Canada star!