Back to all posts
Posted on
Honourable Danielle Larivee visiting Gift Lake Learning Centre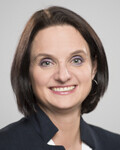 Northland School Division (NSD) is pleased to share that the Honourable Danielle Larivee will visit the Gift Lake Learning Centre tomorrow (Wednesday, March 13, 2019).
During the visit, Larivee, Minister of Children's Services and Status of Women, will speak with students, staff, trustees, and guests and tour the facility. The Gift Lake Learning Centre, which opened in 2015, was made possible through a partnership between NSD, Northern Lakes College (NLC), Gift Lake Métis Settlement and the Government of Alberta. The facility houses Gift Lake School, a Head Start program, Northern Lakes College Outreach Campus and a multi-purpose section.
Photos of the visit will be posted on the NSD website and social media pages.