Back to all posts
Posted on
Shawn Ram appointed Gift Lake School Principal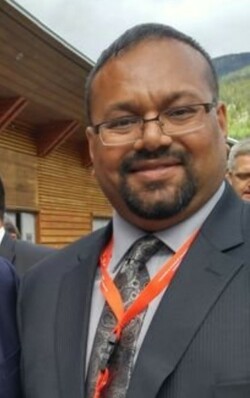 Northland School Division (NSD) is pleased to announce the appointment of Shawn Ram as Gift Lake School Principal. Mr. Ram brings over 17 years of teaching and school administration experience. Before joining the Gift Lake School family, Shawn was Program Manager at Trade Winds to Success. As program manager, he facilitated and coordinated curriculum for First Nation, Metis and Inuit students interested in entering trades.
"I am pleased and honoured to join Northland School Division as well as the staff and students as the new Principal of Gift Lake School," said Ram. "I look forward to the collaborative work that we will be pursuing as staff, parents and community in ensuring the success of our students. I am also excited for the upcoming journey with our students as they move further into the 21st century as engaged, empowered and inspired learners."

From 2011-2014, Shawn served as Principal at Seba Beach School; which is part of Parkland School Division. During his tenure at Seba Beach School, Mr. Ram developed a school-wide literacy and numeracy program.

In 1999, Shawn graduated from the University of Alberta with a Bachelor of Education Degree. His major is in biological sciences and a minor in physical education.